THE WAR THAT SAVED MY LIFE By Kimberly Brubaker Bradley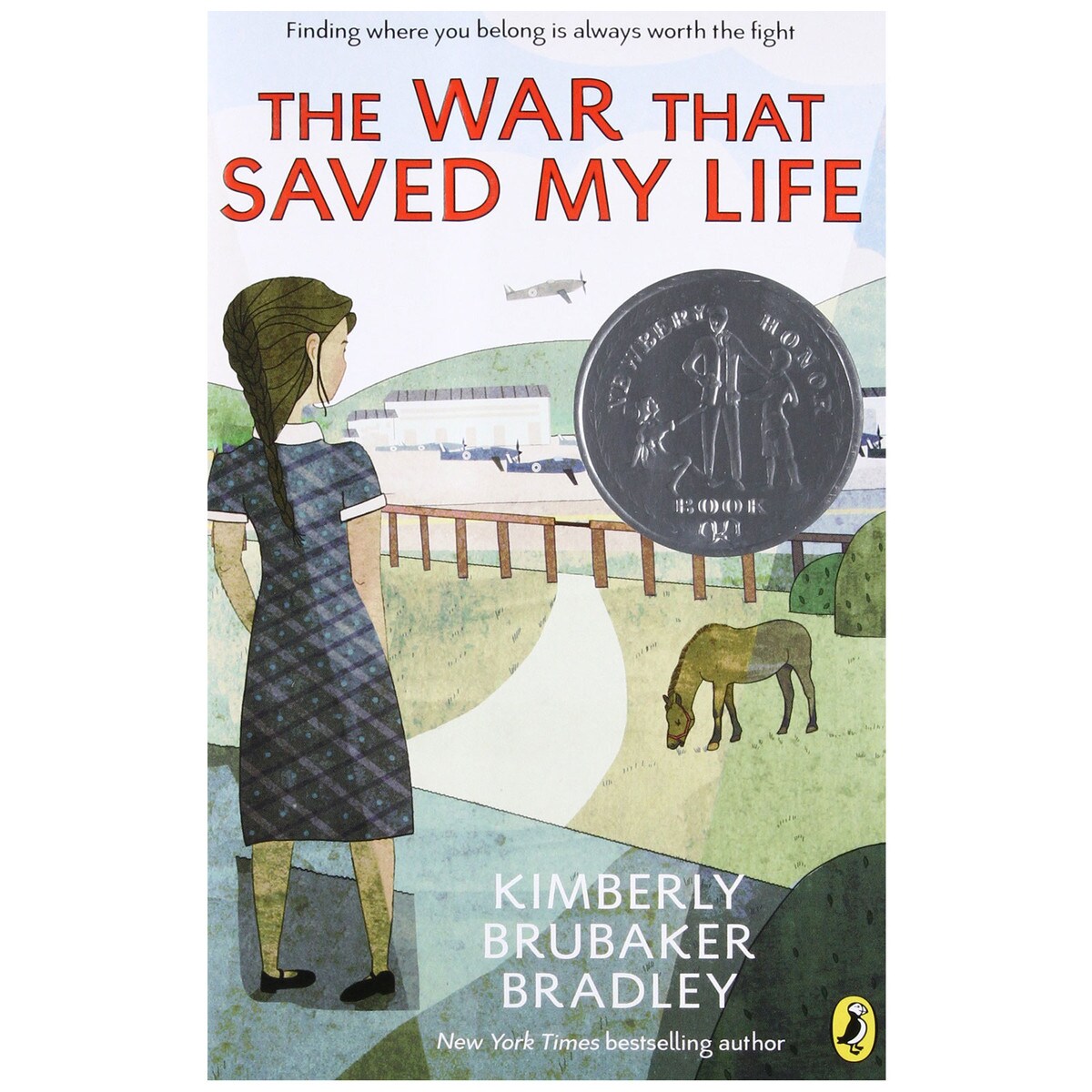 In the book, THE WAR THAT SAVED MY LIFE, Kimberly Brubaker Bradley started off the summer in 1939 when Ana was 10 years old. Ana has a club foot and Ana's mom is very embarrassed about it. Ana's mom allows Jamie (Ana's brother) to go out in public. However, Ana has to stay in and watch out the window of all the kids playing in the street.

Due to bombings possibly occurring, all of the kids have to leave the city due to Hitler. Ada's mom does not want Ada to leave because she does not think anyone will take Ada. However, Jamie is not going to let that happen and will bring Ada with him. Ada and Jamie got up when their mom was sleeping and left. They were the last children selected at the train station because they did not look like any of the other children.
Miss. Smith was the kind lady that took Ada and Jamie in. However, Miss. Smith did not have a choice of bringing them in and was worried because she has never taken care of children before. Miss. Smith wanted to be called Susan. Susan gave Ada and Jamie a bath. She cleaned them up good and gave them some new clothes. When giving Ada a bath, she noticed Ada's club foot. Susan told Ada that it was okay and that they can take care of the clubfoot by going to get it check out by the doctor.
Ada and Jamie were going to go to a school by where Susan lived. However, Ada got denied on going to school because the teachers said

that she was not educable. On the first day of school, Susan took Jamie to school. Ada stayed back and rode the pony. A random horse got spooked and bucked off the rider and jumped over the fence into the pasture where Ada was with the pony. Ada saw it and went over to help the person that got bucked off and found out her name was Margarette. Ada got the horse back from the pasture and helped the horse and Margarette get back home. A couple days later, Margarette's mom came over to the house to thank Ada again and to give her some more riding clothes.
Susan had to black out her house so if the Germans bombed the house at night, then they could not see where the cities were due to no visible lights. Susan noticed a welt on Jamie's hand and asked what it came from. Jamie would not tell, so Susan went to the school the next day to see what was going on. Susan walked by Jamie's classroom and saw that his hand was tied up to the chair. The teacher's reason for
tying his hand up to the chair was that using the left hand was a sign of the devil. Ever since Susan helped out Jamie, Jamie always went to Susan for loving and support instead of Ada.
Ada shows some aggression and attitude towards Susan for not taking care of their pony. Every time Ada does something wrong and thinks that Susan is going to react, Ada flinches because she thinks that she is going to get hit. She has PTSD from her mom hitting her when she "messed up". Susan took Ada under her wing by teaching her how to sew, write, write, and help with the clubfoot. Throughout the story, Susan has written several different letters to Jamie and Ada's mom, but she never gets any
responses. One day, Ada took the initiative to write to mom about her club foot and the letter came back because she must have moved.
Ada helped care for the soldiers that were banged up and brought back to the city.
Through Ada's helping with the soldiers, she did catch a spy and was able to catch them by turning them into the police. Ada and Jamie's mom came to get Ada and Jamie to bring them back. Ada's mom has not changed and she is still very mean to Ada. She still does not allow Ada to leave the apartment or even use the crutches. Ada and Jamie were planning to leave, but their whole city got bombed. They went back to their apartment and a bomb landed on their apartment and went off. Since Ada and Jamie's mom left to go look for them, it saved her life. The mom even admitted and thanked them for saving her life.
THE WAR THAT SAVED MY LIFE is a historical nonfiction novel. There were no illustrations in the book. However, I think that there could have been some illustrations incorporated into the book. For example, there could have been pictures of the horse/pony, bombings, Ana's club foot, etc.

I really enjoyed reading this book. I think that I got a great message from the book. The one message that I got from the book is that no matter how hard your life is, you can still help others. Ana's life was not the easiest, but she still helped other people out. The one critique that I would have for the book is that I would have had Ana and Jamie's mom write back to them. I think it would have been interesting to see what was going through her mind when Ana and Jamie were not around.